Bob had asked me what cabinets the 15/17 were sold with as usually these are seen in the OXFORD.
Here are photos of some original MS order forms that indicate these were supposed to be available with the same cabinets the MP V and VI were sold with: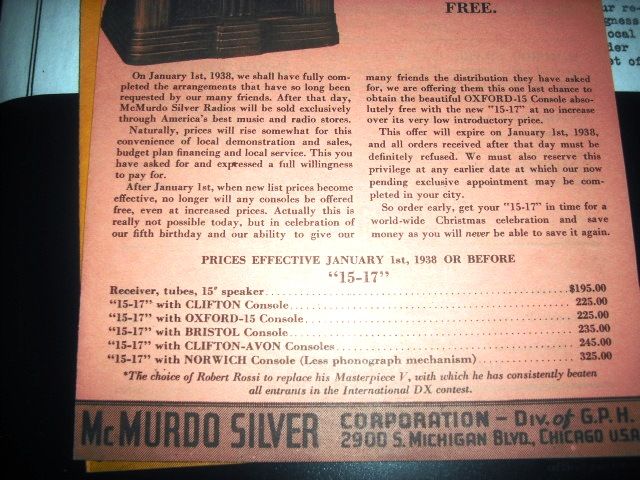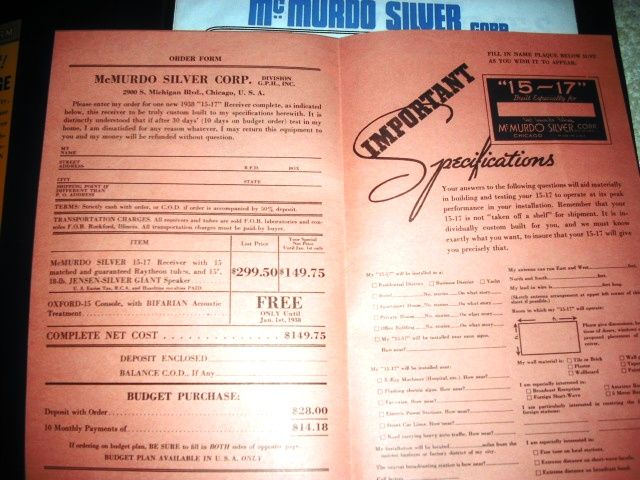 For comparison, Here is the order form for the same period MP VI:
Sorry for the poor quality copy but a close reading of these reveals some interesting facts. The 15/17 was a late model introduced near the very end of the MS company. In prior years McMurdos were sold via mail order, similar to Midwests and EH Scotts. In the attached brochures, it is stated they have decided to start selling McMurdo through selected Music stores instead and the prices will be raised to make the switch. It seems to not have worked as the company soon went out of business and ironically EH Scott bought the remaining assets of the company and actually continued to sell the OXFORD cabinet but modified to hold the Scott chassis.
In the order forms, the OXFORD is presented as a free console if you were to buy the radios. I think this accounts for the large number of these cabinets. There were 2 versions of the MS Oxford too, one with a hinged lid (probably the one sold with the MP V and VI) and a NON-hinged lid with a smaller wood hump on the top.
I have a 15/17 in the BRISTOL cabinet but the fellow I got it from told me he had swapped that chassis in to it and it originally had a Masterpiece.