This post has been corrected..
Originally, I was looking for an Amphenol (91MC4M) Microphone connector, but thanks to Fred Scoles the connector I need, while similar to this, the big difference is that the key on the connector lines up exactly with Pin 1. The 91MC4M has pin 1 offset from the key on the shell and this version is not exactly what I need..
I am looking for a serviceable Amphenol round 4 pin male connector. I want it to mate to the connector on a Hickok 209A VTVM (AC probe).
The barrel is about 3/4" in diameter, similar to the photo below,
but the key is opposite pin 1
and protrudes outward.
From an old posting on the forums, i learned that the connector is a 4-pin heavy chrome microphone connector as used on many 2-way radios of the 1950s and 1960s. There are 2 versions that look the same, but dont quite fit the same. One was for Motorola, the other is generic and is used on GE and many others. I believe the Hickok uses the generic one.
The connector looks a like this..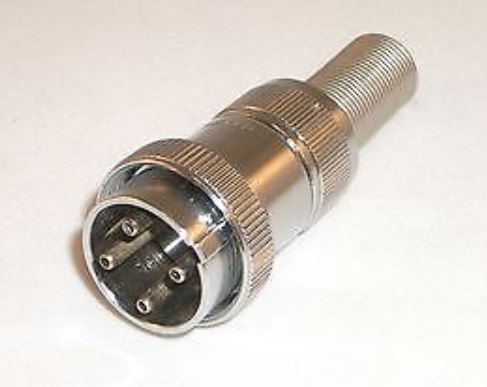 The version I need is the one on the left..
Thanks for looking!
George