Hi All,
I have been working on restoring a Hickok 209A. I have been banging my head recently on what I feel is the last issue.. (Yeah, I know, it never is the last issue
)
I replaced all the caps, and tested most of the resistors (replacing a few mainly during the troubleshooting).
The initial issues were fixed by replacing one of the 90Meg resistors (9 10 meg 1% in series), and replacing the tubes...
I was able to get the meter to function properly on the resistor and capacitance settings, but the AC and DC voltages remained low, with the calibration pots at the end of their range. (9.1 v from a battery only registers around 8v on the 209A. AC 6.3 v shows around 5.5.)
I started looking at voltages, comparing them with the schematic suggested Here is the schematic (copied from an earlier post by another author.
Earlier post:
http://www.antiqueradios.com/forums/viewtopic.php?f=8&t=126997&hilit=Hickok+209a
Full Schematic:
https://web.archive.org/web/20060323171830if_/http://antiqueradios.com:80/albums/Misc/Hickok_209A_schematic_002.jpg
Detail of interest: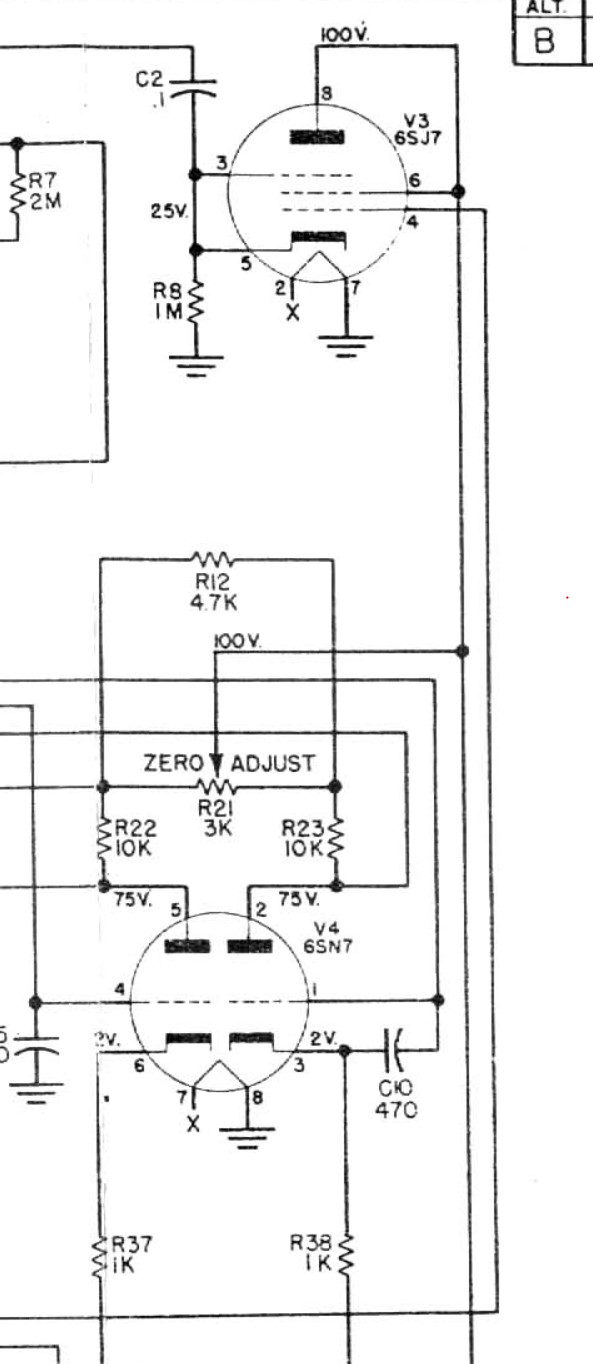 The voltages on the 6SN7 plate (and B+) were low.. (around 87v instead of the expected 100v).
Initially, I thought that the power supply was at fault, and some of that is still unexplained.. but I tried using diodes in place of the 6X5, but no significant difference.
Latest things I tried:
1) Pulled the tubes and checked AC voltage. OK
2) Put 6X5 in the power supply and checked B+. OK (105v)
3) Put in 6SN7 and looked at supply voltages and plate voltages. OK (96v)
4) put 6SJ7 in, and checked voltages (B+ and 6SN7 plate down to 87v, 6SJ7 cathode and grid 35v vs 2v)
5) according to the voltage across the 2.2k resistor (11.1 v) in the power supply, there was only a 5ma draw.
I am pretty much stumped.. One last thought is to use a scope to measure the voltages/signals, and perhaps my VOM is having an effect on the measurements. Also, if there is an oscillation, perhaps I am getting faked out on the voltage measurements.
Any ideas or thoughts greatly appreciated...
George