Fuse resistors are in a death spiral - used for years in TVs and car radios (all the applications I've seen them in...) - they are now called "Fail-safe resistors." I got an engineering sample kit from IRC for their BWF fusibles 15 or so years ago and have used only two of the eighty or so. There's a whole smattering of them on fleabay in one auction:
http://www.ebay.com/itm/ELECTRONIC-Huge ... Swb2xZd8xG
Workman, Corning, IRC and GC all made/supplied them, with the ubiquitous 4.7 ohm Fuzit/Belimiter in the old RCA black and whites, typically a 5-7 watt ceramic fuse resistor. Admiral, GE, Philco (theres one in the Predictas..) and others also used them.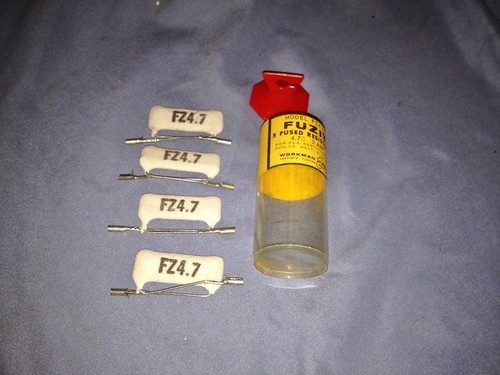 http://www.ebay.com/itm/VINTAGE-FUSED-R ... Sw2gxY2tFM
Bendix and Motorola also used them to protect that DS-501/2N174 doorknob output transistor in the early transistor car radios. Technically an Emitter resistor, they were failsafe nonetheless.