Hello all,
about a month ago I found an affordable Lumitone Radio Lamp of America lamp/radio. These are kinda rare and I have wanted one for a long time but they have been so expensive, I have had to pass on the three that I have found for sale in the last 5 or so years. This one was very affordable and when it arrived, I found out why. Rust, rust.....everywhere rust. It actually looked like it was stored in the bottom of an aquarium for a while. The rust was so bad that the original brass plating could not be saved. I got a quote of 400 bucks to have it re-plated....NOPE!...not a chance. So I took it down to the bare metal and repainted it after I had shot some rust retardant on it. Several coats of "Antique Metallic Bronze" later, the results were very acceptable.
The chassis was a mess too. All the wiring had to be replaced and most of the components were shot.
So....after several dozen hours spent cleaning, sanding and prepping the outer metal housing as well as another several dozen hours spent on the restoration of the chassis...here it is.
All the wires were replaced, all the components were either replaced or rebuilt. The only thing I didnt do was to re-cone the speaker.
A big thanks to Eric Rainey (radionut) for sending me a good clear shot if his dial scale so I could reproduce one (mine was missing totally when I received the radiolamp) and to KenG for helping me out with the chassis when I was at my wits end as to why it wasn't working...(don't ask)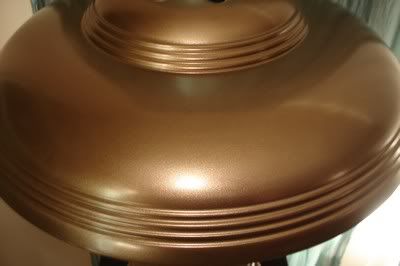 Thanks for looking,
if anyone would like some info on it.....just shoot me an email or a PM and I will get back with ya.
~jeff~