There's a bazillion electrolytic capacitors in the VX-33
High-resolution schematic is on-line...
https://hepcatshaven.com/2015/10/01/70s ... lex-radio/
example: Electrolytic capacitor - polarity symbol.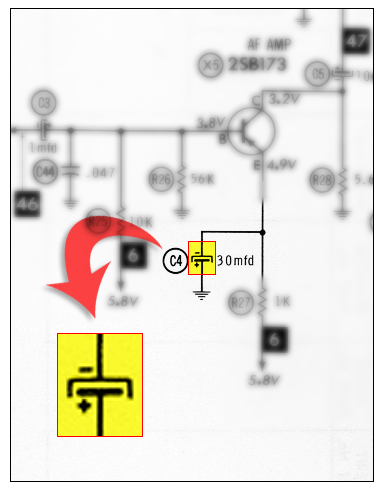 All capacitors should be marked with their values.
Use capacitors rated at 35V or 50V (for 6.3V 10V 16V 35V) and 105°C temperature rating.
For my money, Panasonic... 105°C
FC series
FM series
FR series are all good capacitors.
If there is no silkscreen printed on the trace side, mark their negative connections on the circuit board with a sharpie and replace them one at a time, otherwise you can get confused.
Never use a pencil as it can cause trouble between traces.
Modern day electrolytic capacitors have become...
viewtopic.php?p=2864980#p2864980
Greg.
oh... if the traces begin to lift, your iron is not hot enough - you want to get in-and-out quickly.