Manufactured around late 1967
Service information for radio chassis RC-1232A/B/C/D/E/F/H can be found in...
Sams Photofact Set-946 Folder-7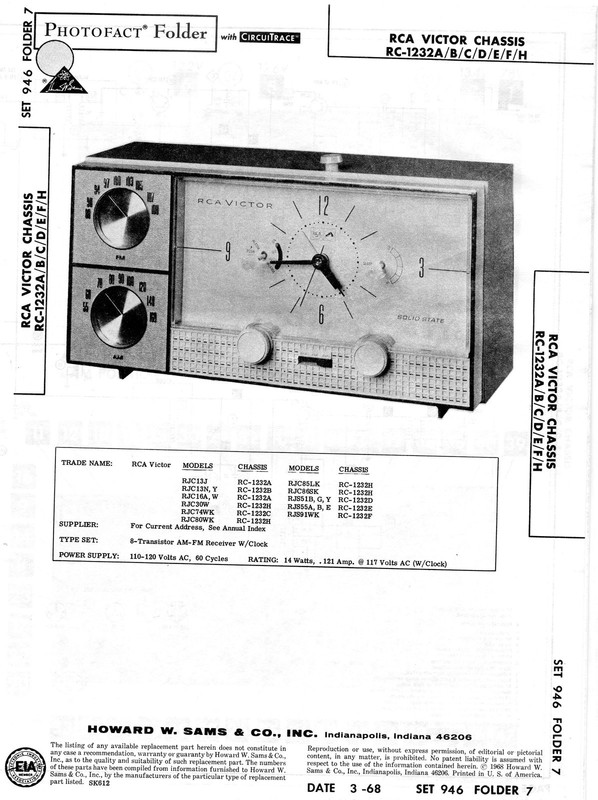 Large image:
https://i.ebayimg.com/images/g/VpAAAOxy ... -l1600.jpg
The Photofact cover image of a clock radio is a representative image.
Original copy $6.98 shipped...
https://www.ebay.com/sch/i.html?_from=R ... 7&_sacat=0
▼
RJC30W - suffix W is for walnut cabinet.
Many other models were covered by Set-946 Folder-7
ref:
https://www.samswebsite.com/en/photofac ... msid/946_7
------------
If you have the patience, the pages can be downloaded from radiomuseum.org for free.
→
https://www.radiomuseum.org/r/rca_rjs55 ... 1232e.html
Downloading from radiomuseum.org (non members).
Click a schematic page from the right-hand scrolling window, then again in the main center window.
Each page will be emailed to you immediately. You can only download three pages a day + up to a maximum of ten every 30 days.
If you experience any downloading difficulties... see this→
viewtopic.php?p=2571007#p2570117
pdf attachments are not visible in junk email folders.
✴
pictorial - how-to→
http://a4.pbase.com/o10/56/215056/1/166 ... titled.png
------------
SOP (standard operating procedure) is to replace all the electrolytic capacitors as a first step. Resistors can fail open or short, alongside their value changing.
A good close visual inspection can often reveal circuit board troubles and suspect components.
For dry joints, touch them up (reflow) with your soldering iron.
Modern day electrolytic capacitors have become...
viewtopic.php?p=2804646#p2804646
Welcome to the world of radio
...
Greg.
oh... check that the earphone socket is not gummed-up and working correctly.