Phil Coe wrote:
Just started to do a refurb of a Heathkit HW16 and stumbled across this circuit breaker wired into the main ac line.
Attachment:
001.jpg-a.jpg
I tried brining it up in a variac and got nothing so am wondering about this device.
I've never seen anything like this. How does it work? How do I know if it isn't working?
I haven't got a clue.
If you are "refurbing" an HW-16 then you should have the complete printed copy of the HW-16 assembly manual.
You should also replace the multi capacitor can, the 2 insulated capacitors (special ordered through hayseedhamfest.com),
and replace all of the power supply resistors. You don't need to replace the diodes. I special ordered the 2 insulated
50ufd 400VDC capacitors. I don't mess with the two 67ufd 450VDC radial lead capacitors below the chassis. If you
want you can restuff the original insulated capacitor with the 67ufd 450VDC capacitors which are included in the
HW-16 capacitor kit from hayseedhamfest.com then remount the restuffed insulated capacitors back onto the chassis.
Here's a picture of the 2 special order hayseedhamfest.com 50ufd 450VDC insulated capacitors that replace the original insulated
50ufd 400VDC capacitors.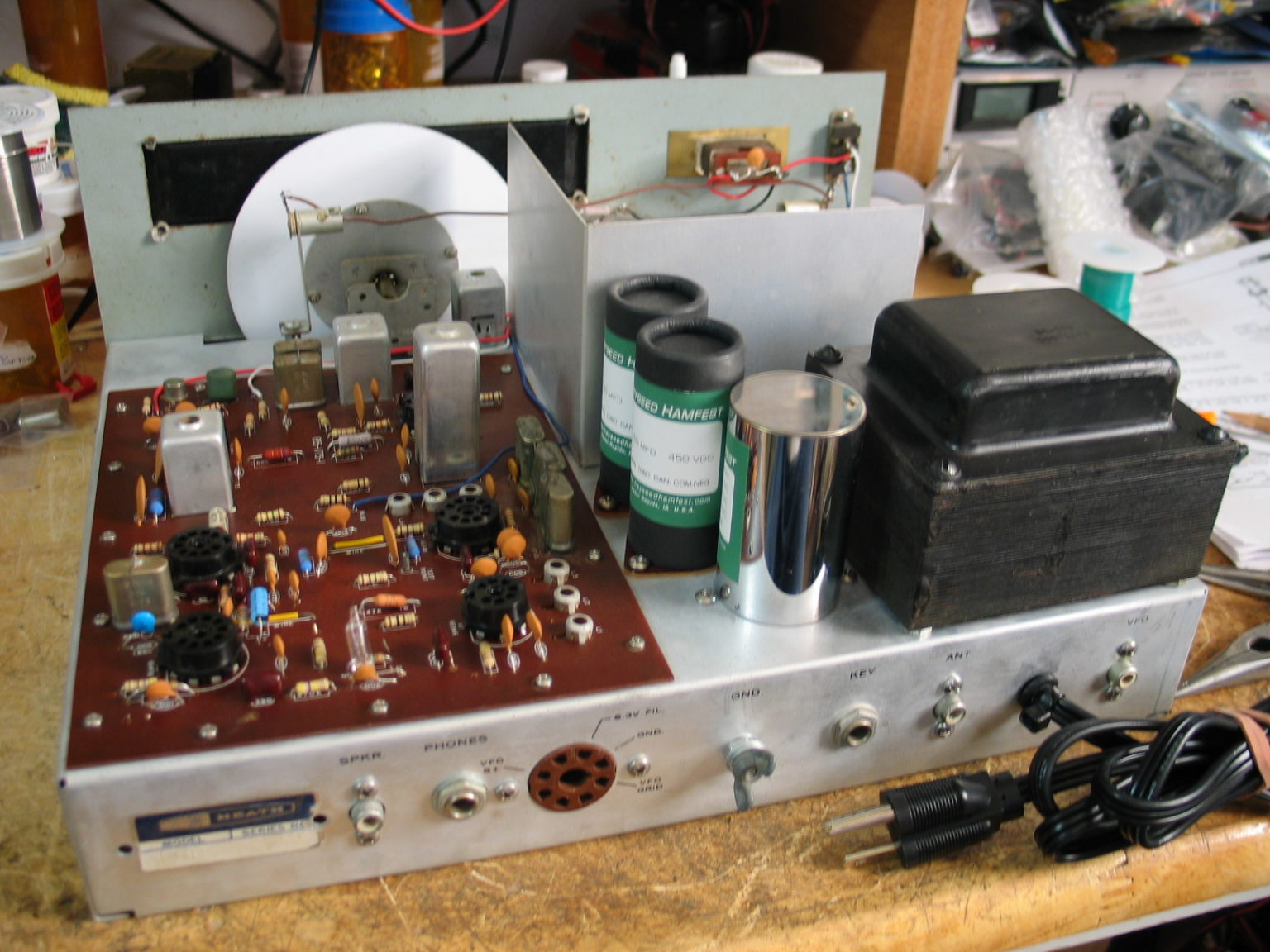 As others have said, that is a 3 amp circuit breaker. The HW-16 manual assembly manual's part list clearly
states it's a "3-ampere Circuit Breaker" (see picture "33" in the HW-16 manual's part list).
That breaker is in "series" with one of the AC power cord leads. Since the AC power cord can be inserted
into the wall outlet 2 ways, the circuit breaker can be in series with either AC HOT or AC NEUTRAL. You can
check the breaker using an Ohm meter.
Pull the HW-16 power cable from the wall outlet.
Connect an ohm meter across the 3 amp breaker. You should see continuity if the breaker is good.
If you do not see continuity then the breaker is bad, replace it with a fuse holder and a 3 amp fast
blow fuse.
I also replace the original power cord with a 3-wire grounded power cord (recommended).