There was some talk about the capacitor values in this bass boost circuit on the Scott forum recently, in particular, if the capacitor values deviated from the original design (0.02uf and 0.025uf), the filter could boost 60Hz hum.
So this peaked my interest to learn what kind of tolerances we were dealing with here.
Here is the original circuit: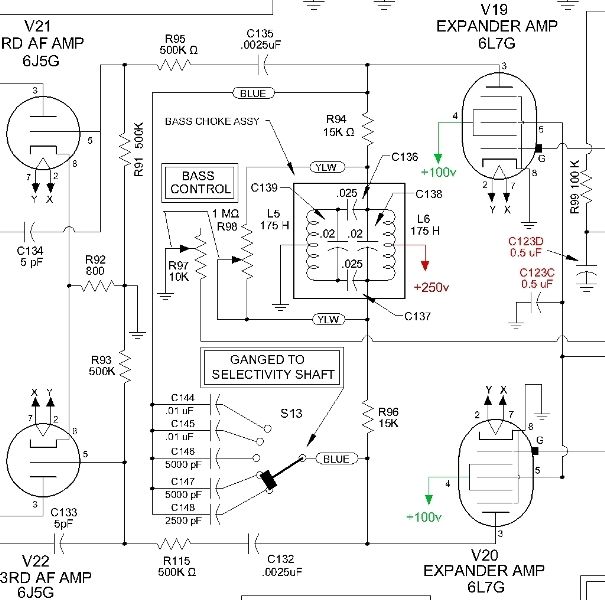 EH Scott's description of this circuit is as follows:
The dual bass circuit is connected in the plate circuit of the 6L7G tubes and consists of two 175 henry chokes tuned by 0.02 mfd shunting condensers and coupled by means of .025 mfd. condensers. Bass control is obtained by means of a dual potentiometer control, the one megaohm section of which is shunted across the choke circuit and the 10,000 ohm section is connected back to the inverter grid input through a 100,000 ohm fixed resistor. This system provides a wide degree of bass variation and also gives a high boost "peak" at 70 and 45 cycles, but a decided dip at 60 cycles and it also falls rapidly at 120 cycles. This feature reduces 60 cycle power line hum and station hum that is often picked up.
Modeling the circuit as shown on the original schematic produces the following: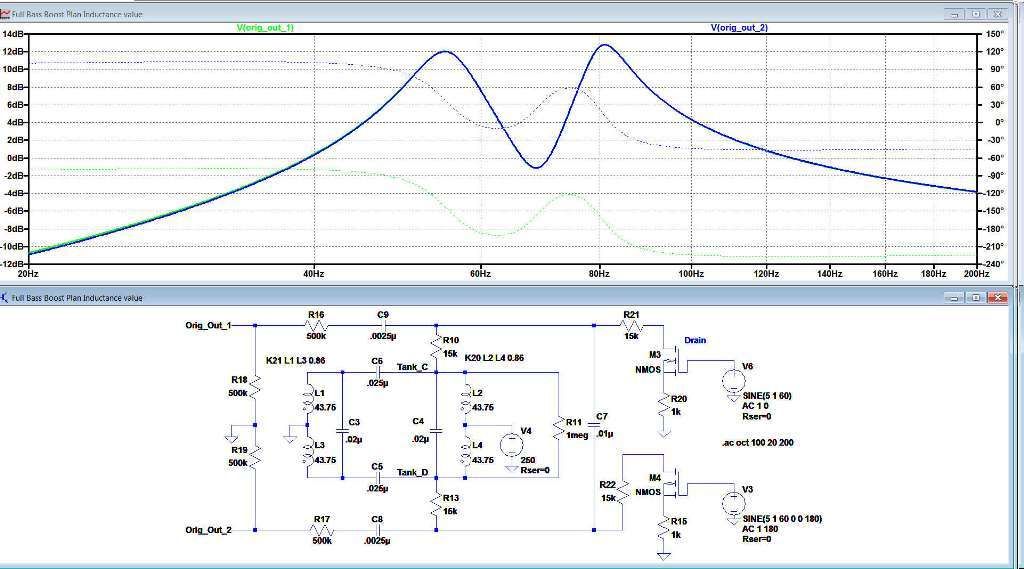 As you can see, the notch is quite a bit off from 60 Hz.
So I measured the inductors with a recent production, lab quality LCR meter and came up with new values. The effective value of iron core inductors can vary with magnetization and signal level, so I used these values as being close.
I now get the following response: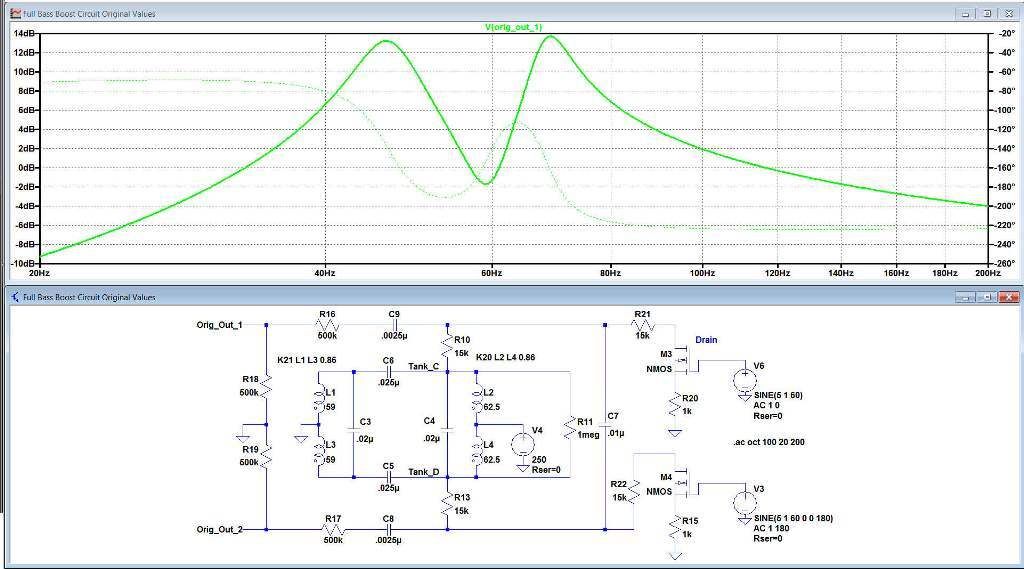 Here is how it looks with all 0.022uf caps: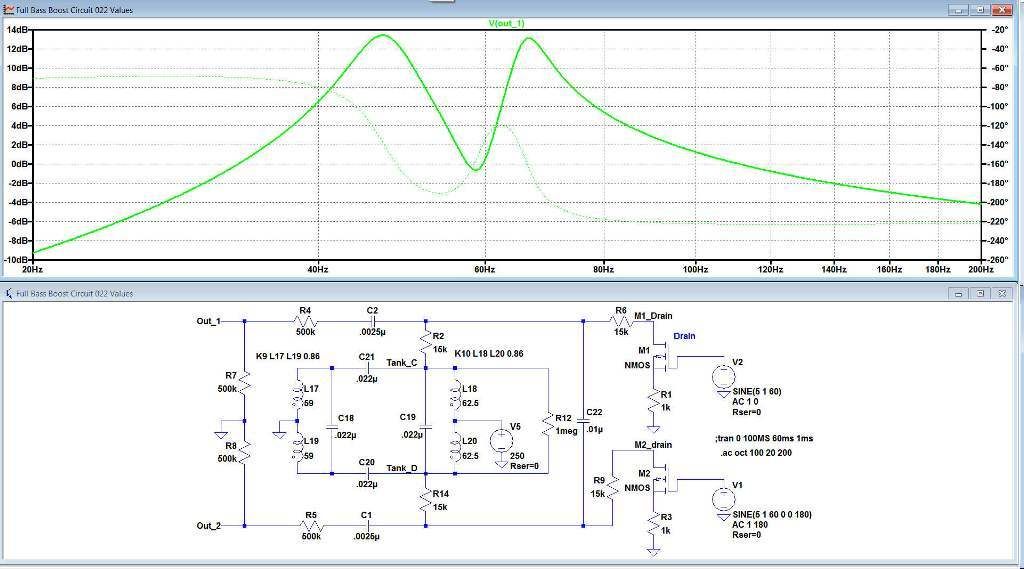 Not too bad.
Circuit is looking much better with the measured values. But wait, I have 3 of these bass choke assemblies available to me, so I take a look at the values of all 3. All were different, so I re-did the model with a different set of chokes.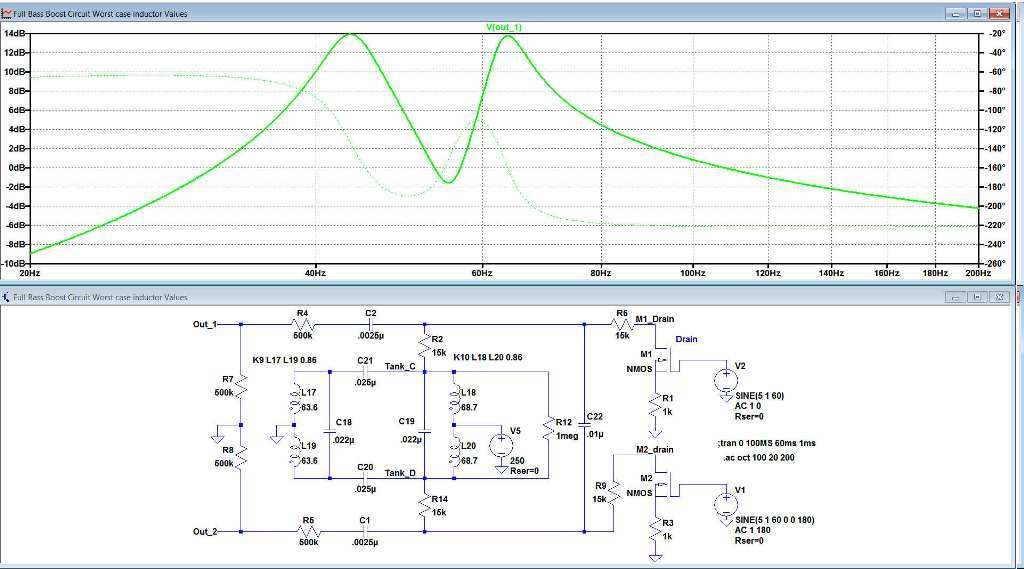 As you can see, this takes the notch a bit further away from 60Hz.
So let's see what values of capacitors correct that notch: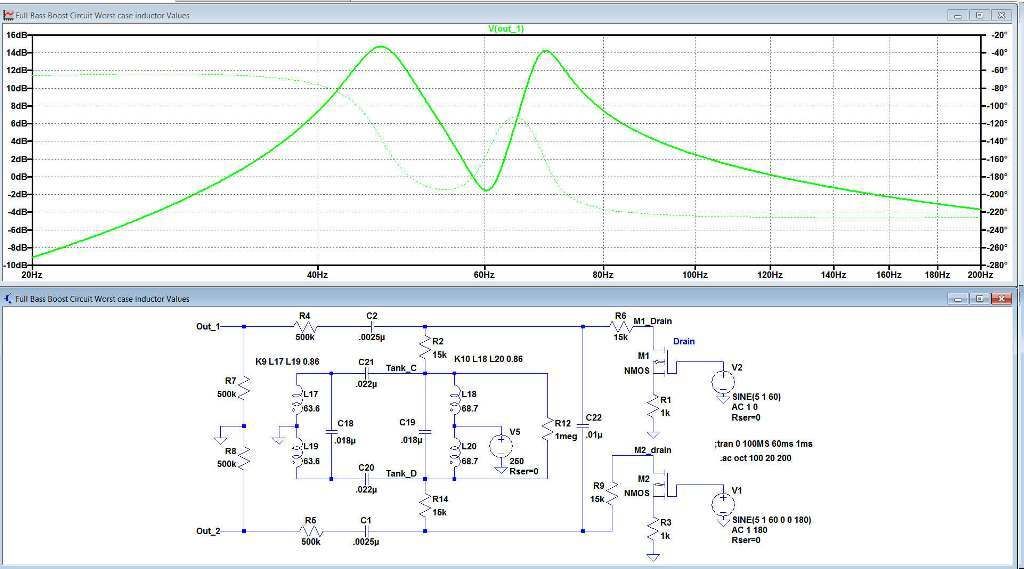 It looks like 0.018uf and 0.022uf bring that notch back to 60 Hz.
So the conclusion is that the iron core inductors used were not high tolerance parts and choosing the correct value of capacitors is going to depend on what set of iron you have in your radio.
Next step is going to be to test this on the bench when I get some time. We will see how the models stand up to the bench testing.