From a previous post of mine.
------------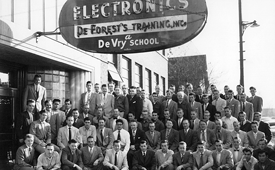 In 1953, DeForest Training School became DeVry Technical Institute.
The early and late study courses can be download from David Gleason's website, along with many others...
DeForest Technical School home study course from late 1940's

https://worldradiohistory.com/Home_Study_Courses.htm
------------
Explore them all, some are great.
The 1949 Radio-Television Training School, Inc. Los Angeles, Home Study course for instance, is straight shootin'.
73 de Greg.