Hi All:
Some of you may remember the first mini-tube iPod amp I built and posted here a year or more ago.
(
viewtopic.php?t=121453
)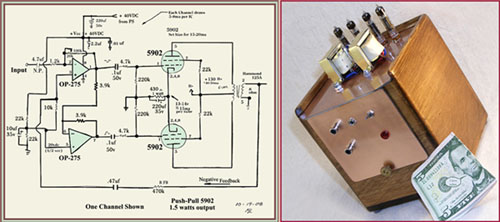 It was a fun and learning experience and a lot of you members here were most helpful to me in getting it done properly. (Thanks again!)
Well THAT amp has been working beautifully ever since.. and so this year I decided to build another one as a slightly-belated Christmas gift for my brother down in Florida.
So this time I decided to build the identical circuit but I decided this time, to re-arrange the layout a bit and try to fit everything into an even smaller wood box than the first amp ( which was in a small square, wooden tissue-box cover)
I chose wood again this time but I also decided to put the output transformers inside the box along with the entire power supply.
The box itself came from Michael's Craft stores for about $3.00.
I stained it with Minwax English-Chestnut stain and gave it about 6 coats of satin-lacquer and hand rubbed that out.
I used brass finishing washers on the top for the tubes to project up through and to dress the hole openings. However when I drilled the 3/8" side vent ports I used brass grommets. These were an excellent choice because each has a center sleeve that fit into the holes nicely.... then glued.
The end result seems to have a bit of a nautical feel to it. Perhaps in part due to the port-holes and the brass hardware... almost a tiny pirate's "treasure chest" look... no?
I used a 30va transformer which runs at only about 80% rating .. so it doesn't get too hot.
I ended up using two 6VA dual-wound "6.3v" filament transformers as output transformers 230v/6v = a ratio of 31:1.
(Actual
unloaded
output is 7.4v which accounts for the 31:1 ratio)
http://www.tamuracorp.com/clientuploads ... FD-4XX.pdf
Only $8.80 each at Digi-key as compared to about $32.00 each for Hammond 125A PP output transformers. I have both and have not been able to discern any significant audible difference ....although I am sure there are.
These transformers are providing an impedance of about 7.5k @ 8 ohms and 3.8k@ 4ohms.
Amazingly this sounds absolutely wonderful especially with the 4 ohm speaker load!
I'm bench testing this week before shipping:
here's the schematics: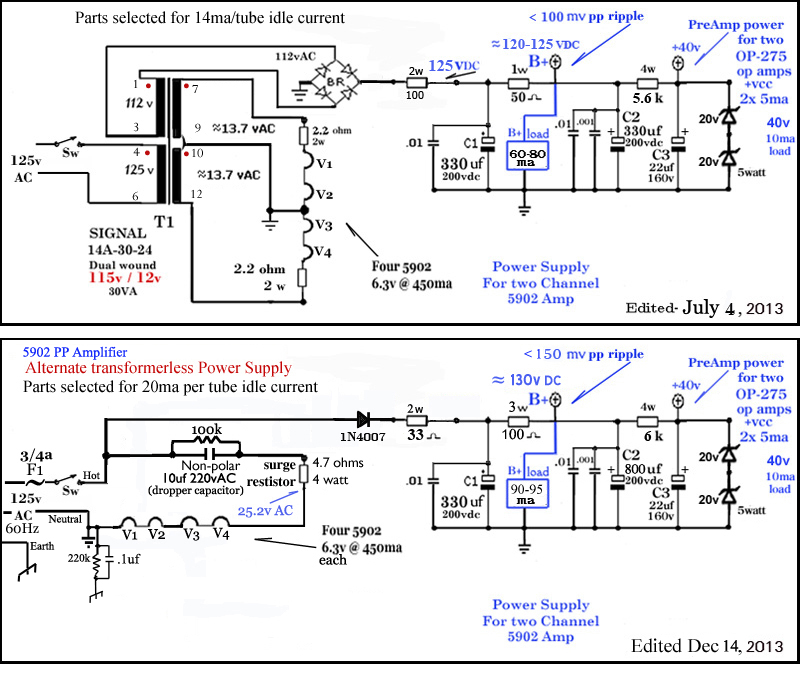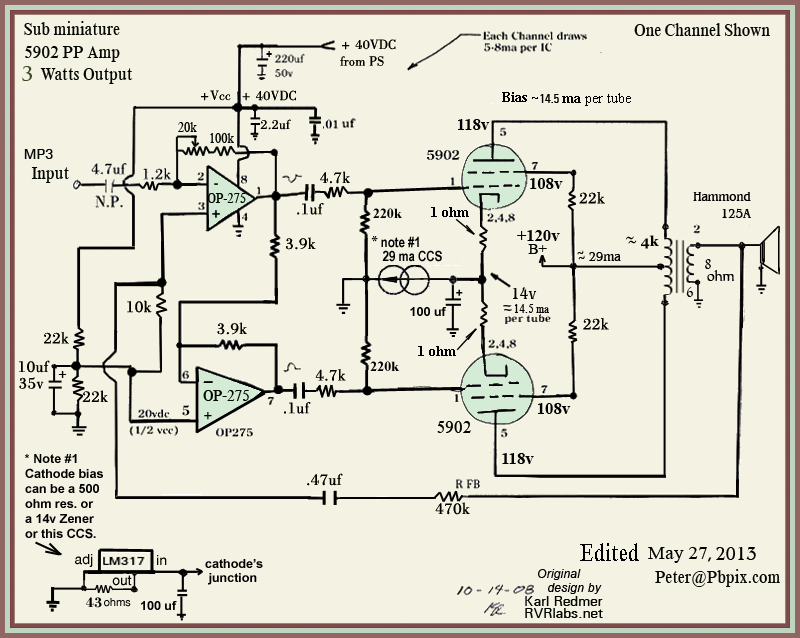 And here's the finished amp: