(1969 year) Chassis-25AT20
Photofact service manual Set-1110 Folder-4 published in July 1970
image is representative.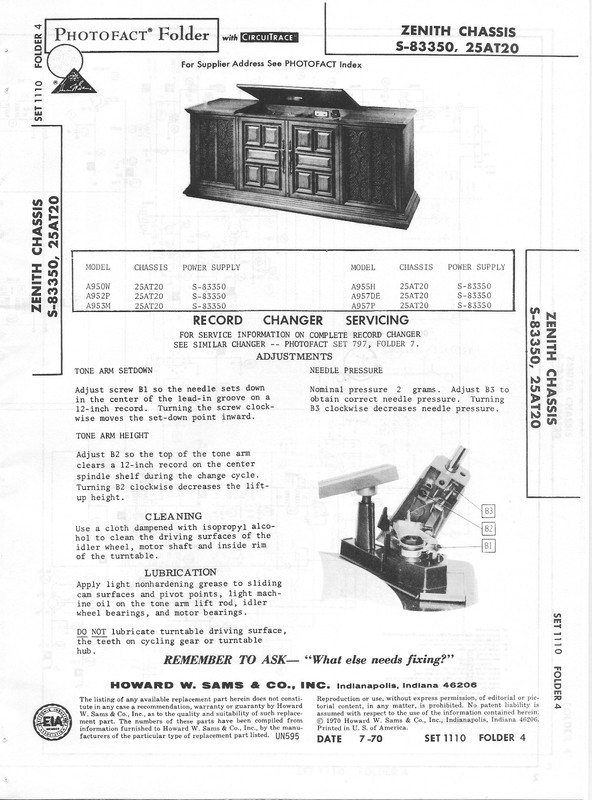 Large image:
https://i.ebayimg.com/images/g/QN4AAOSw ... -l1600.jpg
There's one on ebay, but... He will e-mail you a photo copy for $10.00
!
kinda sketchy as it is a copyrighted document
...
SMC Electronics in Brockton, MA. has an original photofact.
http://www.smcelectronics.com/samsconrec.htm
ZENITH Models: A950W/A952P/A953M/A955H/
A957DE/A957P (25AT20/S-83350)
AM/FM Stereo Radio/Record Player. - $9.50
use keyboard shortcut to search page
Ctrl+F
on a PC
Cmd+F on a Mac
Your record changer service manual can be download here, thanks to Bill J.
http://www.antiqueradios.com/forums/vie ... 5#p1921105
Reference: Your console model will be one of these, prefixed with the letter A
S83350 is the power supply.
https://www.samswebsite.com/en/photofac ... sid/1110_4
Check that 25AT20 is stamped on the tuner chassis before you pull the trigger.
Greg.