Replace all of these Electrolytic capacitors, including the Sanyo/Japanese plastic ones (shown below). They will have their values and polarity marked on them. Remove and replace them, one at a time.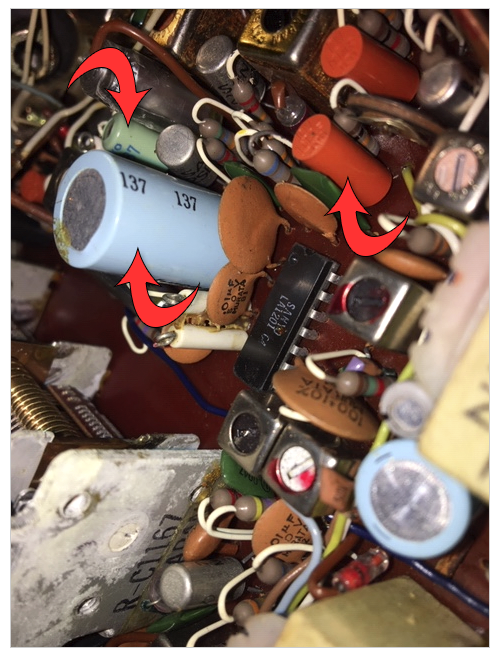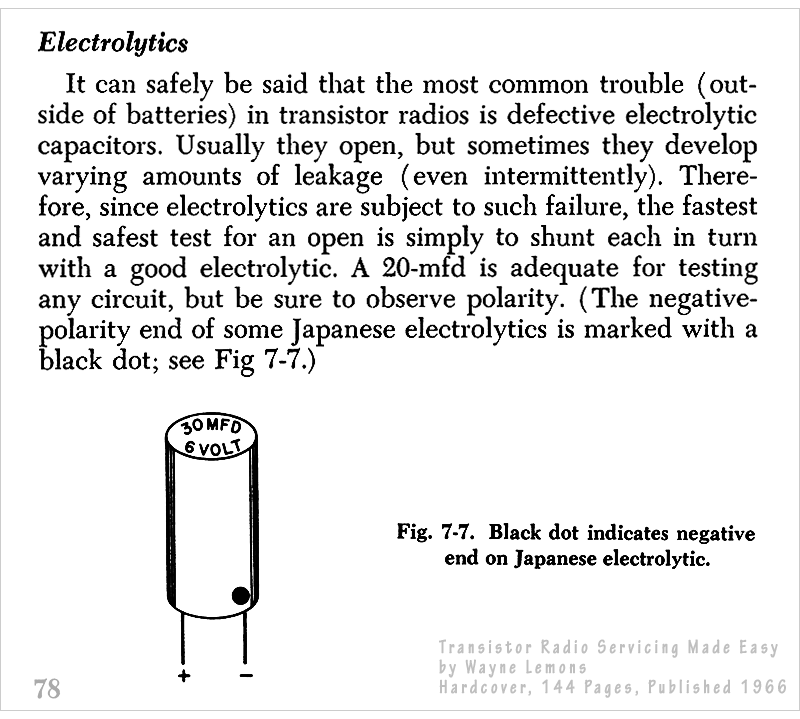 Use capacitors rated at 35V or 50V (for 6.3V 10V 16V 35V) and 105°C temperature rating.
If the traces begin to lift, your iron is not hot enough - you want to get
in-and-out
quickly.
Modern day electrolytic capacitors have become so much smaller since the 1960's
Some of the old μF (microfard) values are no longer common... so choose the next nearest capacitance value, up or down.
...
I buy the 50V ones today
to replace the old 3V, 6V + 10V ones and 85°C is good enough for transistor radios.
It's foolish to hunt down 3V 6V or 7V caps.
As you do not have a schematic, mark their negative connection on the circuit board with a sharpie and... as I said earlier, replace them one at a time, otherwise you can get confused.
For my money, Panasonic... 105°C
FC series
FM series
FR series are all good capacitors.
------------
Before and after soldering...
I clean (and dry) with IPA (isopropyl alcohol) using a small acid brush or an old toothbrush. I use 70% (strength) isopropyl alcohol... mixed 50/50 with
regular
nail varnish remover (acetone), it leaves no residue.
In a past life I have used Zippo lighter fluid (naphtha) or denatured alcohol in a pinch.
More applicable to modern-day devices...
Adding
lead solder to a lead-free soldered joint speeds up the removal process. It lowers the melting point.
If you haven't got a solder sucker...

.
.
EDSYN DS017 DELUXE SOLDAPULLT
...use fresh solder-wick. (The outer braid of TV coax can be used to
soak
up the old solder if you are in a jam).
Create a shopping-list and ask here if you need help.
Greg.
Edit
: allelectronics and Digi-Key links here...
viewtopic.php?p=2864980#p2864980